Palm Tree Removal Services Sydney
Palm Trees can add a real tropical feel to your home – but they can be a serious problem when they start to grow. Foliage can cause damage to your property and create a whole load of mess – so you might consider removing the trees altogether.
Although they look simple to remove, palm trees can have spikes and weigh considerably more than you'd expert. More so than ever, it's crucial to partner with a professional arborist to help with palm tree removal.
Speak to Shane's Trees about our palm tree removal services…
10,000+

Trees Made Safe
Per Year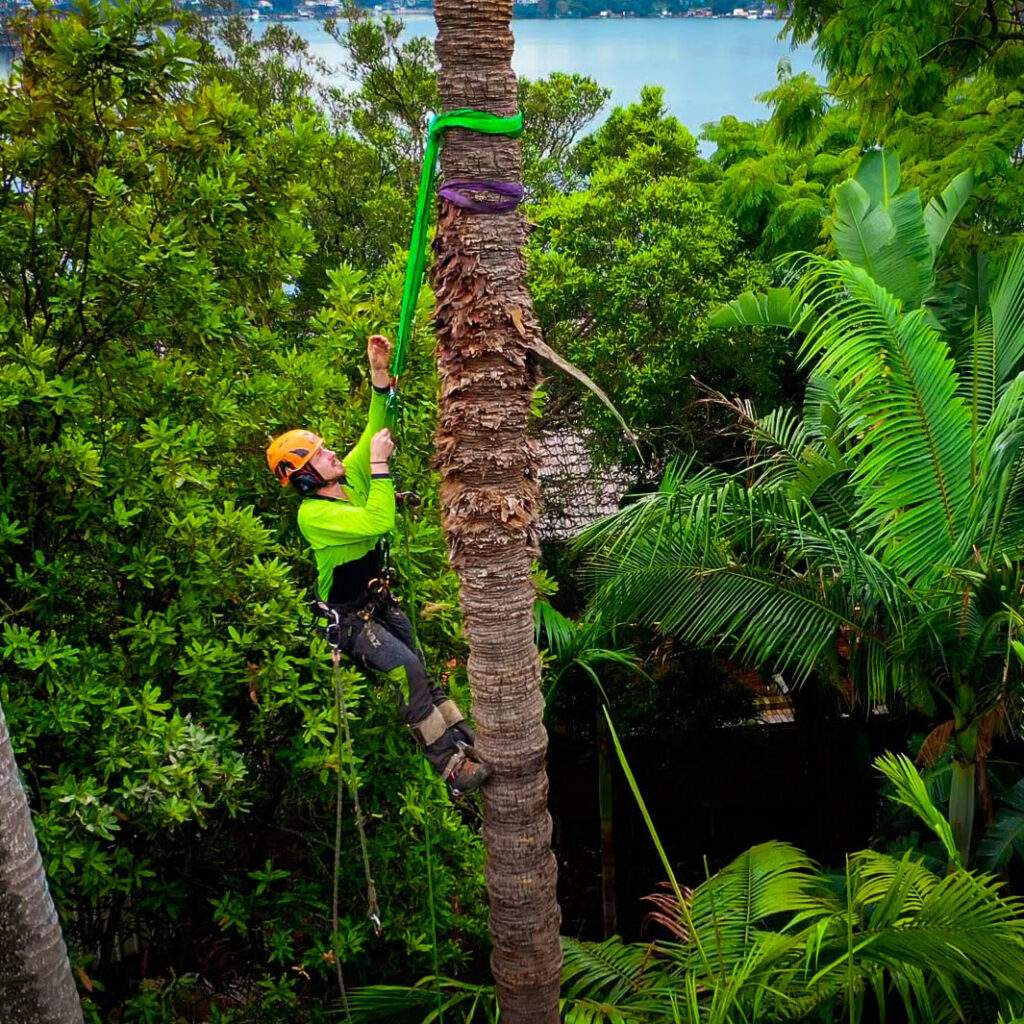 Use Our Expertise To Get Your Palm Trees Removed Safely!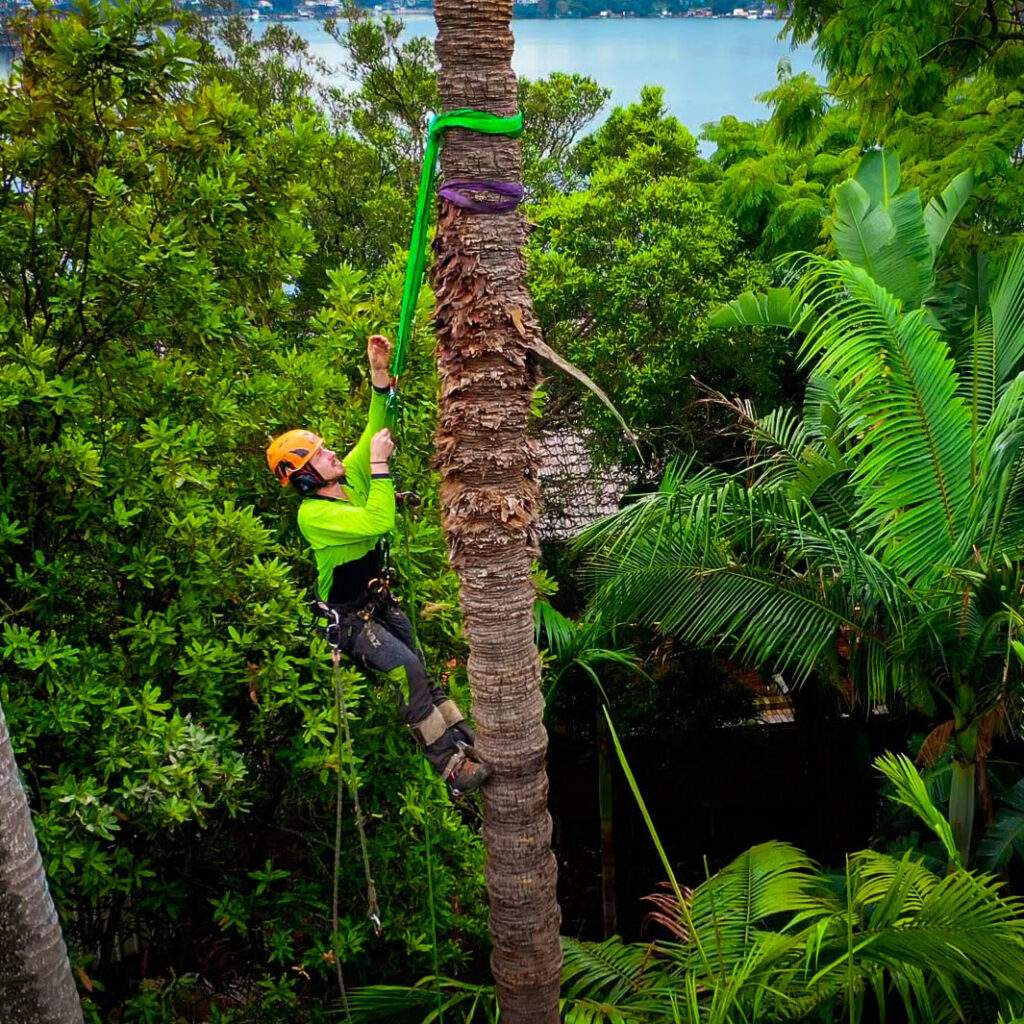 Unfortunately, DIY palm tree removal is pretty common throughout Australia. Many people think palm trees are a breeze to remove – but it's really not the case. It can be incredibly dangerous if handled incorrectly.
A reliable arborist will climb the tree using spikes and a harness, using a handsaw and chainsaw to remove the tree piece by piece before lowering them down with a rope and pulley system. Specialist equipment and expertise are a necessity.
That's one of the many reasons why we recommend using a professional…
Professional palm tree removers adhere to Australian WHS Standards
They have insurance and council approval
They're trained on how to operate around power lines
They have the right tools for trimming, pruning or cutting off dead trees

They'll clean up after doing the job and keep your property safe
They usually offer additional services like palm tree cleaning
Picking The Right Palm Tree Removal Company…
There are plenty of companies out there who say they can remove palm trees – but you need to feel confident that you're hiring a reputable and professional arborist. Trusting your tree removers is paramount to the safety of your family and your home.
When conducting background research, ask your potential provider…
How long have they been offering palm tree removal services?
Shane's Trees is a family-owned company run by a second-generation arborist – and we've been removing trees for 35 years. We're seriously passionate about trees!
Are they familiar with your area and local laws governing tree removal?
Shane's Trees offers a range of tree services across Greater Sydney and The Illawarra. You can trust our expert arborists to handle your palm tree removal safely.
Are they insured?
Shane's Trees has full liability insurance and workers compensation insurance to give you total peace of mind over your palm tree removal project. We've got your back!
Do they use professional arborists?
Shane's Trees' arborists undergo years of training before taking on the responsibility of climbing and safely removing palm trees. Our reputation is second to none!
Palm trees can really enhance the look of an area giving that relaxed tropical feel and they really stand out from native Australian trees which adds to the effect. When they grow tall they can really start to become a problem as foliage dropping from them can cause really damage to surrounding property as well as being extremely messy. Although they may not look as hard to cut down as some larger trees, you are always better off using a palm tree removal expert to do the work as the trunks are still heavy enough to cause serious damage and injury.
If you have ever tried to cut down a palm tree on your own you will know how difficult this task is, as the trunk is usually sharp and spiky where the previous branches fell from, and the weight in the trunk is much higher than you would expect.
Shane's Trees has been pruning and removing palm trees for over 35 years. Our team of fully qualified cert III arborists, full public liability insurance and unbeatable customer service and value make us the easy choice for your tree maintenance needs.
Where space is on our side, our favoured palm tree removal technique is to climb the tree using spikes and a harness. We use a handsaw to remove the lower branches and foliage then rope the chainsaw to the top and start cutting the tree down piece by piece. The pieces of the trunk can be dropped to the ground if there are no surrounding structures or gardens that can be damaged, but if there are then we use a rope and pulley system to lower the pieces to the ground under control.
Palm Tree Cleaning
For palm tree cleaning our experienced tree climbers will ascend the tree with climbing spikes a harness and a handsaw, paying particular attention to not damaging the trunk and leaving branch removal cuts as neat as possible.
If you would like to get a palm tree removal quote, then leave your details in any of the contact forms or call or SMS us today.
Get A Complimentary Fast Quote
One of our friendly team members will get back to you before you can say 'timber'!
Some factors that might affect your quote…
The size of your tree. Generally, the bigger it is, the longer it takes to remove – and the more space vegetation takes up in our trucks!
Ease of access. Trees around properties with steep embankments are often difficult to load onto vehicles.
Equipment needed. Certain projects require the use of barges, cranes and even helicopters which may be reflected in your quote.