Sydney Tree Removal Costs & Considerations
The only information about tree removal you will ever need to read.
What's in this article?
So You've had your tree removal permit approved by the local council, and the time has come to find out prices for tree removal in Sydney. You have come to the best page, because we are not only going to explain how tree services costs are calculated, but the article will help you understand what tree services you should be looking for and the right contractor for the job.
For those that stick with us all the way through, we will provide you with an accurate Tree Removal Calculator that will give an online estimate as close as we can to our real tree removal quotes.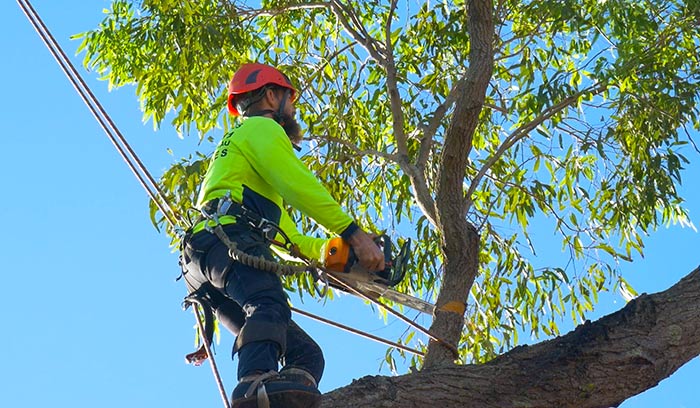 How Much Does it Cost to Remove a Tree in Sydney?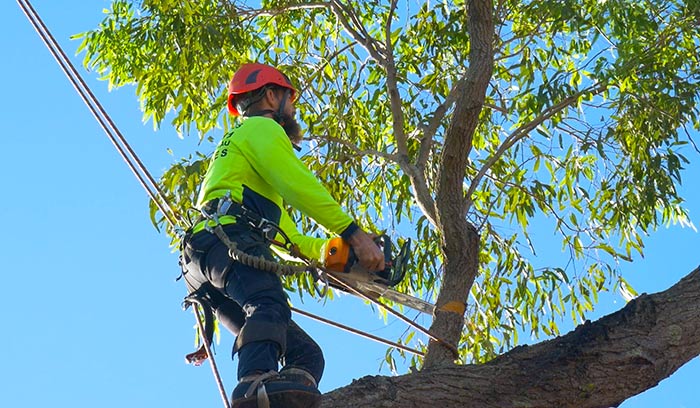 The price of a Tree Removal can be anywhere from $300 to over $8000+ depending on the factors listed below.
The contents of this article will help you understand the factors that make up the price variations and advice on helping you hire the right tree removal contractor for the job.
We also provide an accurate tree removal price calculator to give you a rough guide on what you can expect in your quote
Understanding Tree Services
For many people, seeking the services of a tree removal company can be a daunting task. A quick google search for tree services in Sydney will return dozens of contractors putting their hand up to do the task, but how do you sift through the list to find the right arborist for the job?
Firstly, you should understand that there are no legal requirements to have any formal Arborist Qualifications to become a "Tree Lopper" in New South Wales. This means that any regular Joe can advertise to remove your trees for a fee. To become a qualified Arborist, the individual must complete a certificate 3 in arboriculture as a minimum, and this will qualify them as a certified climbing arborist.
Why is this important?… Well, in all likelihood the 'Tree Lopper' will give you a seemingly better price than a company full of qualified arborists like our own. This is because we have the overheads of correct wages, insurances, safety and ISO certifications and properly maintained and serviced equipment. If the job goes wrong for the 'tree lopper', you might find yourself with a much larger bill than you ever anticipated.
Fortunately, most people are wise enough not to take the gamble when damage or injury is at stake.
Always ask to see valid Insurances and qualifications before hiring a tree removal company

Shane's Trees Tip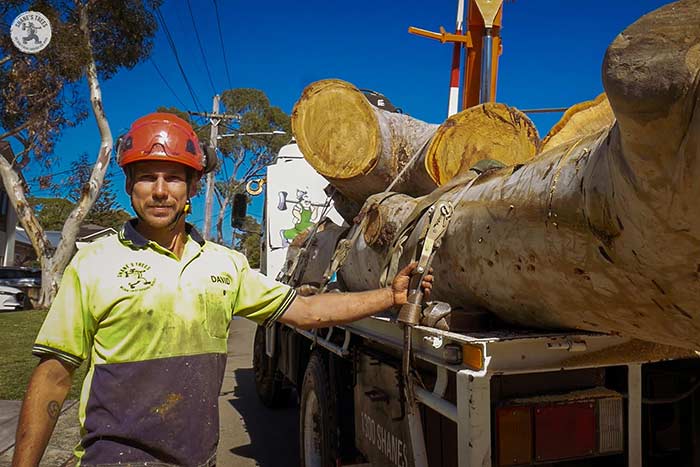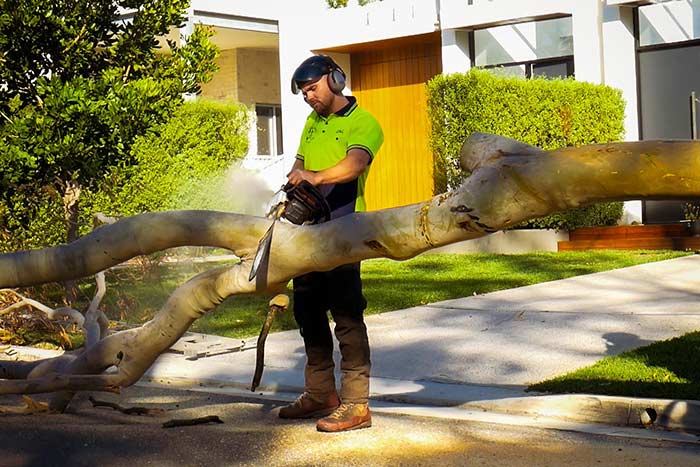 What tree removal services do you need?
The table below outlines the most common types of tree removal services offered and how they relate to cost.
| Service | Description |
| --- | --- |
| Tree Removal | Complete removal and disposal of whole trees, trucks branches and vegetation. Depending on the size, health and location of the tree it may require heavy types of machinery such as cranes, cherry pickers or barges which would significantly increase the costs compared to removal by a climbing arborist. |
| Tree Trimming and Pruning | May also be referred to as tree lopping, tree topping, crown thinning, crown raising or crown reduction. Could be for the purpose of appearance, hazard reduction or removing disease from the tree |
| Stump Grinding | After a tree has been removed a stump will remain protruding from the ground. The fast and most efficient way to remove a tree stump is by using a stump grinding machine and this is normally charged as an extra cost to the job. The stump grinder will leave the finished height just below ground level making the area look good and removing any residual trip hazards. |
| Land Clearing | This service could be used where development approvals have been given to clear land for construction, reducing fire risk, clearing for or maintaining new and existing roads |
What Factors Effect Tree Removal Prices
The table below outlines some of the most common factors affecting the price you see on your tree removal quotes
Cost
Reason
Size of the Tree
A larger tree requires more manpower to bring it down, there is a greater load on equipment and costs are much higher to dispose of the waste compared to a smaller tree
Type of Tree
Tree waste may need to be disposed of differently for different species (ie cannot be recycled), and large hardwood trees may be more time-consuming to process than a small softer tree.
Tree Condition
Trees that have a disease or significant rot are often too risky for our arborists to climb, which usually means we need equipment such as cranes or cherry pickers to bring it down safely, adding to your costs
Access
If the tree is located around the back of a property where we cannot position our trucks and chippers, then it either has to be manually handled to the street or lifted using machinery. Other access considerations include stairs and obstacles, vertical aspect of the property (may be too steep to carry waste to front), waterfront tree removal requiring barge access, Tree limbs positioned over house or structures that prevent limbs from being dropped by a climber and must be lifted by a crane.

Variations in access and equipment/manpower needed will make the most variations in your tree services quote.
Emergency
If we need to call out staff to attend to emergency situations such as fallen trees from a storm then this would normally always result in extra costs
Day of the Week
Tree loppers or Arborists work weekdays for the most part like everyone else. If for some reason a tree job could not be accessed mon-fri and had to be completed on a weekend this would attract penalty rates of pay for the workers. Shanes Trees certainly can and do accommodate weekend work, but these extra costs are passed onto the customer.
Waste Removal
Most contractors will bill separately for waste removal. factors that affect the cost of tree waste removal include the suburb you are in, local tipping fees and the type of tree waste being generated.

If you request to have the tree waste left at your location for example then you will not incur an extra cost for this. Our tree costs calculator take waste removal into consideration.
Stump Removal
Your Tree Removal Quote will generally not include the cost of removing the tree stump unless otherwise stated. We always recommend removing the stump as it may sprout new branches and get in the way of your newly created yard space. It also just looks a lot better. Speak to us about including the cost to remove the stump in your main quote.
Choosing the Right Tree Removal Company
At Shane's Trees, You don't need to worry about our skill set. We have been in business for over 35 years and all our climbing Arborists have a minimum of Cert 3 Arboriculture and above. In line with this, we have a larger base of tools and equipment than some our competitors, meaning we can handle any size job and offer a competitive advantage in costs. have full public liability insurance. There is no risk to you at all and you will see our quotes are the best value in the industry. Call us or leave your details in the form to have a quote within the hour.
Our company provides our tree services across the entire Sydney region including the Northern Beaches, Western Sydney, Eastern Suburbs and the Sutherland Shire. Our tree loppers also service the Illawarra and southern highlands as far down the south coast as Kiama.
The table below shows a list of Sydney tree removal locations
Valid Reasons for removing a tree
Most of the time you will also need to have Council Permission to remove a tree from your property. Shane's trees are experts in their field and can help you determine whether your tree qualifies for tree removal.
Some examples of situations where the council will give permission to remove a tree are as follows:
Calculate The Cost
of Your Project
Right Here, Right Now
Before you ask us for a formal quote, you might find it useful to get a ball-park figure and feel for how much your tree removal might cost. For larger jobs, there are likely to be a few variables and intricacies that affect the final price – but we've made our cost calculator as accurate as possible. Try it now!
Get A Complimentary Fast Quote
One of our friendly team members will get back to you before you can say 'timber'!
Some factors that might affect your quote…
The size of your tree. Generally, the bigger it is, the longer it takes to remove – and the more space vegetation takes up in our trucks!
Ease of access. Trees around properties with steep embankments are often difficult to load onto vehicles.
Equipment needed. Certain projects require the use of barges, cranes and even helicopters which may be reflected in your quote.