Bankstown
Need a Tree Removed in Canterbury Bankstown Area?
Do you have a trees that need to be pruned or removed? For most people this starts off being a daunting task, as they wonder about getting council approvals, who do I call and how much does it cost. Lukily, you are in the right place. The team at Shane's Trees spend every working maintaining and removing all vegetation types, while at the same time providing fast, friendly and free advice and quotes to anyone needing our spcialised services.
Great prices, extremely fast quotes and an unmatched focus on customer satisfaction has been key to the growth of our business and we really enjoy helping folks from all over. Supplementary to this, our company employs only the highest qualified tree climbers and all staff go through regular safety training. We are one of the truley licenced and fully qualified arborists in the game and have the full suite of current insurances.
There really is no need to look elsewhere, Shane's Trees have everything you need in the right time and at the right price. Call us or leave you details in the forms provided.
The crew, from Shane's Trees turned up on time, went about their work in a very professional manner, cleaned up and left my property as they found it. The quality of thei
r workmanship was outstanding. Wasn't the easiest location or job description, being a Date Palm frond prune and trunk clean up. Very happy with end result and would not hesitate to recommend Shane's Trees in the future. Thanks guys. Craig Bonett. Loftus.
-

craig bonett
3 months ago
Thank you Shane's Trees and crew. We had the best crew do a fabulous job at our place today. It was a difficult site and a very hot humid day but they didn't miss a be
at. We are blessed with some beautiful fully matured, very tall gum trees that needed some serious attention. It is amazing how much more light we have back in the house now. Thank you for a very professional job – I can't recommend Shane's Trees highly enough – we will definitely have them back to maintain our home. Cheers Cheryl & Grahame
-

Grahame Brown
4 months ago
Thank you Shane's Trees. Our company contracted Shane's Trees to remove 8 extremely tall trees in a very challenging location. The crew were extremely professional, har
d working and friendly. They were able to complete the works professionally and went out of their way to ensure our client was happy at the end of the project. I would highly recommend Shane's Tree company to anyone and will definitely utilise their experience again in the future.
-

Sammy (nopantsam)
5 months ago
Good communication, appropriate pricing and professional crew made for a pleasant experience dealing with this company. Time efficient removal of a palm tree in a very na
rrow space. Trump ground down and area cleaned up before their departure. Highly recommended.
-

Glenn Crouch
5 months ago
Earlier today, Wollongong crew from Shane's trees started the tree removal and trimming work in my backyard at 1 Karnu place, Kareela. They did a very professional and
thorough job with safety. Macca was brilliant with his skill and climbed up the trees with his harness on. I was supervising the whole operation as this was my first experience with the company and it never felt unsafe for a moment. Macca was supervised by his crew members at all times and was fully supported by other 3 members. The crew were polite and asked if I was happy with the work they were undertaking. They had the right equipment and safety gears which I was happy about. My overall experience with Shanes tree from the initial inspection to the job completion was brilliant! My dealings with Aaron, pre inspection person, Joshua, Ben and Wollongong crew was very satisfactory. Definitely using them next time! 10 out of 10 to Wollongong Crew for a safe, professional and timely service??
-

Sagar Banjade
6 months ago
Macca, Sam, Craig and Shane cut back our trees and were such a delight. They were friendly, professional and really efficient. Nothing was too much trouble for them. They
cleaned up the yard and left it tidier than it was when they got here. We will definitely use them again, They were outstanding. Thank you Shane's Trees.
-

Catherine DRURY
8 months ago
We have an huge old gum tree in our back yard that was dropping branches & lumps of mistletoe and was a danger to my 94 years old father. The crew of Shane's trees came
and removed all the dead dangerous timber and cleaned the tree up and made it safe. My Dad can now use his back yard safely. The guys were professional and courteous and made sure Dads flower garden was protected while they worked.
-

celt43 .
8 months ago
We had a large job which we thought would take days to complete but the wonderful team was amazing and completed the job within the same day and far beyond our expectatio
n. They were professional and friendly and cleaned up when they were done, leaving our backyard looking completly transformed. It was so impressive watching the team remove these enormous trees with precision. We are so happy that we used Shane's tree and would absolutely recommend them.
-

Winnie Vogue
9 months ago
Thanks to John and the team for a job well done on a difficult prune and remediation. No fuss, very professional and best of all no mess. If it wasn't for the neat and ti
dy tree you would never have known they were there :). Highly recommend Shane's Trees.
-

Corey
9 months ago
Tree & Stump Removal Bankstown
Many people call us to discuss the process of having a tree removed and many are surprised to learn that council approval is required. Such information can be found on the tree removal bankstown page of the bankstown city council website.
As far as pruning or removing trees from your property goes, any native tree requires permission from the local government council. Most councils are fairly strict about this policy and will only approve it if one of the following conditions is met:
The tree has become so large that the roots are growing into and destroying structures or services
The tree has become so large that branches are growing into and destroying structures or services
The tree is creating a hazard whereby a falling branch could harm residents or passing members of the public
The tree is rotten or has 'Tree Cancer'
The tree needs to be removed to make way for an approved development
When selecting a tree removal company, you should firstly make sure that all the relevant qualifications and insurances are in place. In New South Wales this includes Certificate 3 in Arborculture and public liability insurance. You should also be aware that many companies performing these works don't have it, so do you research first. You see our certificates here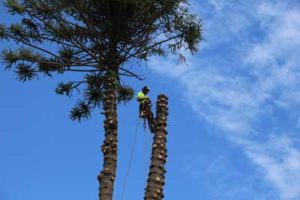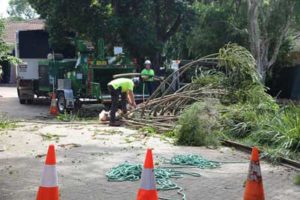 Need a tree removed in bankstown?
Shane's Trees have been operating in the Sydney / Bankstown area for over 35 years and have the tools, equipment and experience necessary to tackle any size job with any type of access requirements. We offer the following services:
Complete tree removal
Tree lopping, pruning or trimming of troublesome or dangerous limbs and branches
Creation of wood chip mulch for more efficient removal and reusability
Free wood chip mulch delivery anywhere within 20 minutes of Bankstown city council area
Arborist reports for council approvals
Free quotes and advice on any tree removal or application
There are very few Arborists in the business with our level of expertise, so call us today 0422 927 381
DOWNLOAD tree removal application from Bankstown city council